Every year we tell ourselves the same thing – we are going to save, we will buy Christmas gifts throughout the year, we won't go crazy in "Dezember" like we did the year before…
But here we are, empty wallets, smack-bam in the middle of the longest month of the year, Janu-Worry.
Sigh…
We know. We know!!! How on earth are you going to make it through the month when all you have left to bargain with is the copious amounts of loo paper you stocked up on last year?!
Don't fret too much! Dinu has come up with a few hacks for our trusty paper products that will make that last penny go all the way this month!
Household towel hacks (that actually work)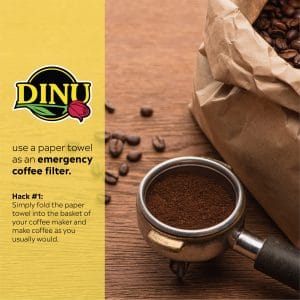 1.Use a paper towel as an emergency (Janu-Worry) coffee filter. Simply fold the paper towel into the basket of your coffee maker and make coffee as you usually would! What's even better is if you use Dinu Household Towel because we are food grade safe and have the ISEGA seal to prove it!
2. Use the towel as a filter when straining your cooking oil. This will separate any sort of food bits from the oil to ensure you have cleaner oil for the next cooking round!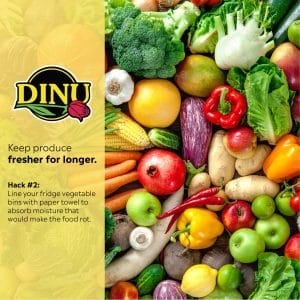 3. Keep produce fresher for longer – line your fridge vegetable bins with paper towel to absorb moisture that would make the food rot. This will make the food last longer and would make cleaning up a breeze!
4. Keep your greens crisp and delicious – add a dampened paper towel to the bag or container that has your lettuce, herbs and other green veggies in it. The paper towel keeps the moisture in the container at a comfortable humidity so that the produce doesn't rot, but also doesn't dry out and become limp.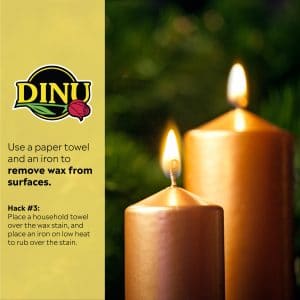 5. Did loadshedding cause some unnecessary candle wax accidents? Don't fret! Place a household towel over the wax stain, and place an iron on low heat to rub over it. The heat will melt the stain and the paper towel will absorb it. This works especially well on hard surfaces, carpet and upholstery.
6. Running low on baby wipes? Layer paper towels into a plastic container. Mix 1 cup of water with 1/8 cup of baby lotion and 1/8 cup of baby wash – and pour this over the paper towels. Keep the towels covered to make sure they stay damp. Using this method means you would definitely want a strong paper towel – and Dinu has you covered!
Stay tuned for more hacks that save you money and actually work!
Bostwick, L., 2021. 17 Uses For Paper Towels. [online] Successful Homemakers. Available at: <https://successfulhomemakers.com/17-uses-for-paper-towels/> [Accessed 22 December 2020].